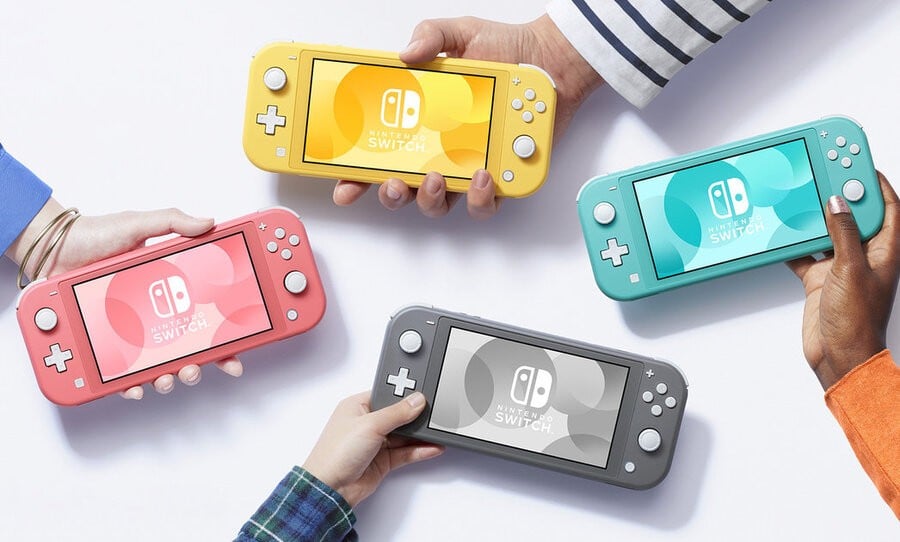 If you're hoping to grab aNintendo Switch Liteall for yourself, you've certainly come to the right place. Pre-orders for Nintendo's latest console are now popping up all over the place and we're gathering them for you below.
At the time of writing, all three standard colours of Switch Lite are available for pre-order from numerous UK and US retailers. You'll also find a couple of options available forthe fancy Pokémon editionconsole (or the Switch Lite Zacian & Zamazenta Edition, to give it its full name) in the US.
---
Update (2nd Aug, 12pm BST):The Pokémon Zacian & Zamazenta Edition Switch Lite has finally appeared at a UK retailer. You cansnag your own pre-order from GAMEright now.
Update (31st Jul, 8am BST):Switch Lite pre-orders have now appeared on Amazon in the US. Go! Go! Go!
---
We'll make sure to add to this list with any more Switch Lite deals we find going forward, so feel free to bookmark this page and check back if you're hoping for a particular price or retailer. In the meantime, let us know if you spot any more options by leaving a comment below. We've also added a Frequently Asked Questions section to clear up any queries you might have about this new version of Nintendo Switch, including the differences between this and the standard model.
Where to pre-order Nintendo Switch Lite – USA
Please note that some of the links on this page are affiliate links. If you click them and make a purchase we may receive a small percentage of the sale which helps support the site. Please read ourFTC Disclosurefor more information.
Where to pre-order Nintendo Switch Lite – UK
Nintendo Switch Lite FAQ
What are the features of the Switch Lite?

The standard model's left-side buttons have been replaced with a traditional D-Pad, and the speakers have moved from the front of the console to the bottom. Here's a look at the Switch Lite from all angles, including all of the buttons, ports and other fancy gizmos available.
What gameplay modes does Switch Lite support?
One of the key features of the standard Switch model is its three gameplay modes: TV mode, Tabletop mode, and Handheld mode. However, the Nintendo Switch Lite can only be played in handheld; itcannotconnect to the TV and does not feature a kickstand to use in a Tabletop setup.
It's also worth noting that the Nintendo Switch Lite does not feature HD Rumble or an IR Motion Camera, although the console will recognise other wireless Joy-Con.
Are all Switch games compatible with Switch Lite?
The Nintendo Switch Lite can play any Switch games which support handheld mode.
For games that donotsupport handheld mode, players can wirelessly connect compatible controllers to the Switch Lite and effectively create a makeshift tabletop setup. If you're using original Joy-Con controllers, you'll need to have a way of recharging them as they cannot be docked to the Switch Lite.
What comes in the box with Switch Lite?
The Nintendo Switch Lite doesnotinclude a dock, HDMI cable, or kickstand like the original model. Instead, the box will simply contain the console and an AC adaptor.
What are the Switch Lite specs?
Here are the Nintendo Switch Lite vital statistics along with a comparison to the standard model:
Dimensions:Nintendo Switch Lite: 3.6″ high, 8.2″ long, 0.55″ deep | Nintendo Switch: 4″ high, 9.4″ long, 0.55″ deep with Joy-Con attached
Weight:Nintendo Switch Lite: .61lbs | Nintendo Switch: 0.88lbs with the Joy-Con attached
Screen:Nintendo Switch Lite: 5.5″ touchscreeen, 720p | Nintendo Switch: 6.2″ touchscreen, 720p
Battery Life:Nintendo Switch Lite: approx. 3 – 7 hours | Nintendo Switch: approx. 2.5 – 6.5 hours
Storage:Nintendo Switch Lite: 32GB | Nintendo Switch: 32GB
What Switch Lite colours or styles are available?
The Nintendo Switch Lite will be available in yellow, grey, or turquoise at launch.
Aspecial Pokémon editionhas also been revealed for a November release, which looks rather lovely:
How much does Switch Lite cost?
Missed all those pre-order links at the top of the page? Nintendo Switch Lite's recommended retail price will be $199.99 / £199.99. The Nintendo Switch's recommended retail price has been $299.99 / £299.99 since it launched in 2017, so the Lite variant will save you 100 notes if you're happy to sacrifice a few of the features detailed above.
When does Switch Lite launch?
The Nintendo Switch Lite will be available from 20th September, while the snazzy Zacian & Zamazenta Edition (the Pokémon one) will arrive on 8th November, just a week before the launch ofPokémon Sword and Shield.
---
Are you thinking of securing a 'Lite Switch' ready for its release date of 20th September or will you be waiting for more colours to pop up (Spice Orange, perhaps…)? Tell us below.